What Is The UK's Best Life Insurance In 2022?
There are lots of factors to consider when looking at the best Life Insurance providers in the UK.
There is not necessarily one leading provider however there may be one which is more appropriate for you given your personal circumstances.
There are a number of factors you can look at to help you judge the quality of a Life Insurance policy. These include:
Clarity of policy wording
The number and range of exclusions
If premiums are guaranteed
Optional extra areas of cover
Percentage of claims paid.
You also need to think about value for money, as simply paying the most expensive premium won't necessarily guarantee you the best life cover. You're looking for the right policy at the right price.
In addition to this expert guide we have also written expert product reviews for each of the top UK life insurance providers individually including Aviva, Legal & General, LV and Vitality.
What Does Life Insurance Cover?
Life Insurance pays out a lump sum if you pass away during the policy term. You'll also get a payout if you become terminally ill, where a doctor says you have less than 12 months to live.
You can use your payout however you see fit, although many of our clients use the benefit to:
Which Life Insurance Is Best For Me?
Before thinking in any detail about Life Insurance, you need to work out which type of policy you actually need. This depends on what you're looking to protect, as well as on the needs of you and your family.
There are four main types of Life Insurance:
Decreasing Term Life Insurance
Decreasing Term Life Insurance sees the payout fall over the policy term, reaching zero at its end. This makes it well-suited to covering repayment mortgages, where the amount you owe declines with time as you make capital and interest repayments.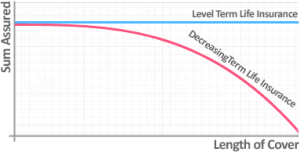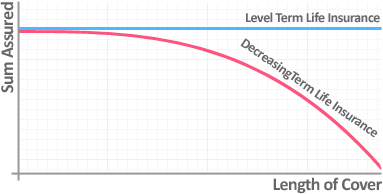 Level Term Life Insurance
With Level Term Life Insurance, the payout is the same in the first year as in the last. It's therefore generally better for covering interest-only mortgages. With such mortgages, you only make interest payments so the capital balance you owe doesn't fall over time.
It's also useful to provide a consistent level of financial protection for your loved ones.
Family Income Benefit
Family Income Benefit provides a regular income to your dependents rather than one lump sum. This offers a more manageable benefit to replace lost income so your loved ones can maintain their lifestyle should you pass away.
Whole of Life Insurance
Whole of Life Assurance might be the right option if your loved ones will definitely need a lump sum after you've gone, possibly to pay funeral costs or meet an inheritance tax bill.
This is because there's no set term. The policy lasts until your death and pays out whenever this might be providing you keep paying premiums.
Compare Top 10 UK Insurers
Takes approx. 60 seconds
Type of CoverDecreasing Life and Critical IllnessLevel Life and Critical IllnessDecreasing Life InsuranceLevel Life InsuranceLevel of Cover
Date of Birth
Or call us on 0208 432 7333
Very good service from Rauri
Very good service from Rauri – he has been very helpful and thorough.
Kathryn Wright | 16/06/2022

Why Is Life Insurance Important?
Before asking the question which is the best Life Insurance it is important to make sure it is appropriate. Life Insurance is really only valuable if you would be leaving loved ones or an outstanding debt behind.
For many of us there are families who would be left in financial difficulty or mortgages that need repaying. That's where Life Insurance can step in to provide invaluable financial support should the worst happen.
What are the chances of dying…
Unfortunately death is a risk we often shy away from thinking about, underestimating the chances of it happening and the impact it would have on those around us.
The Drewberry™ Health & Protection Survey found we are SIX times more likely to pass away before retirement than most people think.
The survey also found 2 in every 5 households have no more than £1,000 in cash savings to see them through should they fall on hard times, such as after the death of a breadwinner.
Below is data taken from our Life Expectancy Calculator which is powered by ONS Data showing the likelihood of passing away at various ages.
| Age 30 | Age 40 | Age 50 |
| --- | --- | --- |
| 1 in 112 | 1 in 53 | 1 in 23 |
Insurer Liverpool Victoria are very transparent with their claims data publishing the following statistics with regards to their Life Insurance policyholders.
63 was the average age for a female life insurance claim
47 for a female critical illness claim
The youngest life cover claimant was 24 years old
The average person had had their policy for just 9 years upon sadly passing away and leaving their family needing to claim.
What Is Not Covered By Life Insurance?
Life Insurance has few standard exclusions however most policies tend to exclude the following.
If the death is self-inflicted
If the death is caused by misuse of drugs or alcohol
If the death is due to involvement in terrorist activity or war
If the death is caused by reckless activity or gross negligence
Suicide is excluded with most insurers however it is often only excluded for a set period of time after taking out the policy – typically 12 months.
Which Life Insurance Providers Have The Best Payout Rates?
If you are going to spend your hard earned money on a Life Insurance policy you want to know if the worst did happen that it would pay out.
In 2017, the Association of British Insurers collated the industries claims statistics and published results showing 98% of term insurance claims were successful, as were 99.99% of whole of life claims.
For the small proportion of claims that weren't paid, the ABI cites that this was largely due to clients not disclosing important information when taking out the policy, or claiming for a condition that is not covered by the policy.
Be As Accurate As Possible With Your Life Insurance Application
When setting up your policy it is important to be as open and honest as possible with regards to existing health conditions and any hazardous pursuits you may undertake. It can be really valuable speaking to an adviser to make sure you have done everything you can to submit an accurate application.
If you need any help them please do not hesitate to pop us a call on 02084327333, our team of expert advisers are here to make sure you have everything set-up correctly.
Don't Underestimate Just How Many Claims Get Paid
Below is a summary of the published claims statistics from the top UK life insurance providers. It is reassuring to know just how high successful claims rates are as many UK adults heavily underestimate this.
Our latest survey found 44% of UK adults think less than 50% of Life Insurance claims got paid 🙈.
| Insurer | 2019 | 2020 | 2021 |
| --- | --- | --- | --- |
| Vitality | 99.5% | N/A | 99.6% |
| Scottish Widows | 99.4% | 99% | 99% |
| Liverpool Victoria | 99% | 98% | N/A |
| Zurich | 99% | 99% | N/A |
| Aviva | 98.6% | 99.3% | 99.4% |
| Legal & General | 97% | 97% | 98% |
| Aegon | 96% | 96% | 95% |
| Royal London | 94.3% | 95.7% | 99.5% |
| AIG | N/A | 99% | N/A |
IMPORTANT NOTICE 🧐
You shouldn't use payout statistics alone to decide which insurer offers the best life insurance. Instead, use them as a rough guide to compare successful claims across the industry as a whole.
Which Life Insurers Offer The Best Premiums?
There are a few factors which affect the cost of Life Insurance. They're split into personal and policy factors.
Policy Factors
Sum assured
How much you want the policy to pay out if you pass away. The higher your benefit, the more premiums will cost.
Policy length
How long you want the policy to last. The longer you need Life Insurance, the higher your premiums due to the greater risk of you dying as you get older.
Type of cover
Level cover is more expensive than decreasing cover as the benefit is fixed for the policy term. Meanwhile, premiums for increasing cover will rise alongside your benefit.
Personal Factors
Age
The older you are when you take out the policy, the more it will cost due to the higher risk of dying the older we get.
Health and medical history
Insurers look at your health, including factors such as your height and weight. If you have certain medical conditions, the insurer will likely charge more to compensate for the increased risk of passing away.
Smoker status
Smokers are more likely to die prematurely than non-smokers. Insurers therefore charge them more.
Occupation
If you work in a riskier role, such as on a construction site or at heights, you run a greater risk of death in your daily life than the typical desk worker. Higher risk roles generally therefore mean higher premiums.
Example Premiums
To come up with the premiums in the table below, we've had to make a number of assumptions about each individual. For example, we've assumed they are:
A healthy non-smoker
Employed in a desk-based role (an accountant)
Seeking £250,000 of Life Insurance to age 65
Applying for cover as a single individual, not jointly with a partner.
25 Years Old
35 Years Old
45 Years Old
Decreasing Cover
Level Cover
£6.89 per month
£9.34 per month
£13.99 per month
£9.47 per month
£13.72 per month
£22.34 per month
If at any point you are ready to find out what life insurance will cost given your own circumstances you can use our online quote tool which compares premiums from all the top UK life insurance companies insurers →
The Top Additional Life Insurance Options
Many of the best Life Insurance policies will have additional benefits above and beyond offering a payout on the policyholder's death. These may be included as standard or offered for an additional premium.
Including Critical Illness Cover
Most Life Insurance policies will offer Critical Illness Insurance as an add-on. If you choose this cover, it will increase the price of your premium; however, this is likely to be a better choice in terms of price than taking out Life Insurance plus a separate critical illness cover (CIC) policy.
Terminal Illness Cover
Terminal illness cover is usually a standard feature of Life Insurance policies, allowing for a payout to be made before the policyholder's death if they're diagnosed with a terminal condition (having less than 12 months to live).

If the prognosis is that you'll survive for less than 12 months, most Life Insurance policies will pay out early on Terminal Illness Benefit, meaning you have some financial support for you and your loved ones during this difficult time.
Michael Barrow
Protection Expert at Drewberry
Type Of Premiums
Generally, guaranteed Life Insurance premiums – where the monthly sum you pay doesn't change through the life of the policy – are seen as 'better' than reviewable Life Insurance premiums.
This is because the insurer can't change the amount they charge you
Reviewable premiums may be cheaper at the outset of the policy, but could prove significantly more expensive in the longer term as insurers are free to raise premiums over time.
This may happen if, for example, the provider experiences higher claim levels than it had anticipated, or if a major change in interest rates increases its cost base.
Waiver of Premium
This option can mean that, if you find yourself in unfortunate circumstances, your Life Insurance policy remains in place without you having to continue to make premium payments; this may be, for example, if you can't work because you've become seriously ill.
Flexible Lifestyle Options
Policies can come with an enormous range of flexible options that can seem great to cope with changing, unpredictable circumstances. But you also need to remember that the more flexibility you build into a product, the more you're likely to pay in premiums.
Some common options include:
Guaranteed insurability
Allows you to increase your level of cover without a further medical assessment
Benefit indexation
The level of your potential payout will increase in line with inflation
Renewable Term Life Insurance
Gives the option to renew at the end of the policy without a further medical assessment
Convertible Term Life Insurance
Can be turned into a whole of life policy without a further medical assessment
Best Support Services
Look beyond the core cover. All policies at their core pay out if you pass away. A key way the best Life Insurance providers differentiate themselves is in the additional benefits they offer.
These benefits commonly include:
Digital GP services
An advance from your benefit towards your funeral / probate fees if your benefit is tied up in probate
Mental health support
Support with bereavement for your family after a claim
Access to estate planning / will writing / power of attorney services.
Is It Best To Write Life Insurance Into Trust?
Writing your Life Insurance into trust means the insurer pays your benefit into a trust first. The trust then passes it to your family. As a result, the payout never becomes part of your estate and therefore avoids inheritance tax.
While this is available with every insurer, the best Life Insurance providers let you do it easily online. This is opposed to the traditional way with wet signatures and paper forms going back and forth to trustees and the insurer.
If your insurer offers online trusts, your adviser can set up your trust with you when you apply. It's a much smoother process that's easier for everyone.
Who Are The UK's Best Life Insurance Companies In 2022?
Being independent insurance brokers we work with all the top UK insurers when finding our clients the best cover.
There are more than 10 major UK Life Insurance providers to compare. Despite the high number of insurers, it's important to compare all of them when you're considering your options.
To help you navigate the many potential pitfalls we have put together the table below summarising each of the major insurers products and our verdict on each of them.
Aegon
Additional Benefits
The Drewberry Verdict
AIG
Additional Benefits
The Drewberry Verdict
Aviva
Additional Benefits
The Drewberry Verdict
Guardian
Additional Benefits
The Drewberry Verdict
Legal & General
Additional Benefits
The Drewberry Verdict
Liverpool Victoria
Additional Benefits
The Drewberry Verdict
Royal London
Additional Benefits
The Drewberry Verdict
Scottish Widows
Additional Benefits
The Drewberry Verdict
Vitality
Additional Benefits
The Drewberry Verdict
Zurich
Additional Benefits
The Drewberry Verdict
Maximum Benefit
Unlimited
Cover Type
Level / Decreasing / Family Income Benefit
Terminal Illness Cover?
✅
Joint Cover?
✅Joint life first death / joint life second death
Online Trusts?
❌
Claims Paid
96% in 2019, totalling £71.5 million
Policy Plus is Aegon's main additional benefits offering. It provides:A second medical opinion service
A face-to-face appointment with a UK specialist following a recent medical diagnosisA health and wellbeing service
Counselling for help with bereavement, emotional health, relationships, family concerns, finances, debt, legal issues and consumer rightsAegon will also pay £10,000 of your payout to a funeral director for your funeral if the benefit is tied up in probate.
👍
Flexibility of having joint life second death cover available, which pays out after the death of both parties during the policy term rather than on the death of the first partner.
🏆
Four times winner of the Best Protection Service Award at the Moneyfacts Awards 2017-20205-star rating from independent insurance assessor Defaqto in 2020
❌
Fairly minimal additional benefits compared with other insurers
❌
No online trusts
Maximum Benefit
Unlimited
Type of Cover
Level / Decreasing / Increasing / Family Income Benefit
Terminal Illness Cover?
✅
Joint Cover?
✅Joint life first death / joint life second death
Online Trusts?
✅
Claims Paid
£48.2 million in 2019
Smart Health is AIG's main additional benefits offering. It includes:24 / 7 digital GP serviceFitness and nutrition plans from qualified sports coaches / nutritionistsMental health support / counsellingOnline health assessment to boost awareness of health metrics such as your BMI and cardiovascular risk profile, as well as available tests and screening programmes.Second medical opinion from Best DoctorsAIG advances up to £10,000 to either a funeral director or your family where it has agreed to pay a claim but the benefit is tied up in probate.
👍
Smart Health provides an excellent range of additional benefits, among the best in the market
👍
Increasing cover available
🏆
Winner: Outstanding Insurer of the Year at the 2020 LifeSearch Awards
Winner: Best Added Value Provider at the 2020 Cover Excellence Awards4-star Defaqto rating
❌
While AIG publishes the monetary value of claims it pays, it has not published the percentage of successful claims for 2019
❌
AIG only gets a 4-star Defaqto rating for its Life Insurance. Most other insurers are rated 5-star.
Maximum Benefit
Unlimited
Type of Cover
Level / Decreasing / Increasing / Family Income Benefit
Terminal Illness Cover?
✅
Joint Cover?
✅Joint life first death only
Online Trusts?
✅
Claims Paid
98.6% in 2019, totalling £582 million
Aviva will advance up to £11,000 of your benefit to your family to put towards a funeral or probate application fees.Other than this, Aviva's main additional benefits offering is DigiCare+, which provides access to:A 24 / 7 Bupa Anytime HealthLine, staffed by trained nurses to help manage minor health concernsA Health MOTNutrition adviceGym discountsUp to six sessions of video / phone psychotherapy per yearSecond medical opinion service on a recent diagnosis and your treatment optionsBereavement support if you lose a family member.You can also opt to pay an extra £36 annually for three Digital GP appointments per year.Optional Add-Ons for an Extra PremiumFracture cover
Pays up to £6,000 once per year if you suffer a specified fractureGlobal treatment
Covers the cost of medical treatment, up to £1 million per year or £2 million over the life of the policy, if you or your child develops a serious illness and Aviva's Best Doctors signs off on paying for treatment overseas
👍
Aviva DigiCare+ is a great suite of additional benefits available for free
👍
You can pay to add various additional benefits such as fracture cover and global treatment. This is fairly unique among Life Insurance providers.
👍
Aviva's £11,000 advance towards a funeral while your family waits for probate is the highest in the market. Also, your family can use some of this towards probate fees.
🏆
5-star Defaqto rating
❌
While Aviva offers a digital GP service via Aviva DigiCare+, which not every insurer does, it's at extra cost and limited to three appointments per year
Maximum Benefit
£15 million
Type of Cover
Level / Decreasing / Increasing / Family Income Benefit
Terminal Illness Cover?
✅Plus a payout if you develop stage 4 cancer, motor neurone disease, Parkinson-plus syndrome or Creutzfeldt-Jakob disease (CJD) during your policy, even if life expectancy at diagnosis exceeds 12 months.
Joint Cover?
✅Dual cover. Rather than covering two people with one joint policy, you get two single policies together in a dual menu plan.
Online Trusts?
❌
Claims Paid
n.a.
Guardian Halo
Offers information on estate planning / power of attorney following a terminal diagnosis, bereavement counselling for your family and a face-to-face second medical opinion if you become terminally illGuardian Anytime
A 24 / 7 remote GP, plus a second medical opinion service following a serious diagnosis and post-diagnosis support from a dedicated nurse
👍
Dual life cover standard for couples, so partners taking out joint cover each get their own policy. Surviving partners therefore retain their life cover if their partner dies.
👍
Broader terminal illness coverage. If you develop stage 4 cancer, motor neurone disease, Parkinson-plus syndrome or Creutzfeldt-Jakob disease (CJD) Guardian pays out, even if life expectancy at diagnosis exceeds 12 months.
🏆
5-star Defaqto rating
❌
As a fairly new provider, Guardian doesn't yet publish its claims statistics.
Maximum Benefit
Unlimited
Type of Cover
Level / decreasing / increasing
Terminal Illness Cover?
✅As standard providing policy term is 2+ years
Joint Cover?
✅Joint life first death only
Online Trusts?
✅
Claims Paid?
97% in 2019 totalling £392.4 million
Legal & General will advance up to £10,000 of your payout to a funeral director if your benefit is tied up in probateNurse Support Services, a telephone helpline offering support with serious illness / disability; bereavement; mental health; caring for an ill or elderly loved one and moreSecond medical opinion service, a face-to-face consultation with an expert to discuss a recent diagnosis / suggest alternative treatments
👍
Legal & General is a large, well-established insurer and paid out almost £400 million in Life Insurance claims alone in 2019.
🏆
Winner: Protection Provider of the Year, 2020 Mortgage Introducer Awards5-star Defaqto rating
❌
Fairly minimal additional benefits
❌
Your policy must run for a term of 2+ years to be eligible for a terminal illness payout.
Maximum Benefit
Unlimited
Type of Cover
Level / decreasing / increasing / Family Income Benefit
Terminal Illness Cover?
✅
Joint Cover?
✅Joint life first death only
Online Trusts?
❌
Claims Paid
99% in 2019, totalling £38.8 million
LV's main additional benefits offering is LV= Doctor Services. This offers:24 / 7 remote GP appointments, with prescription servicesSecond medical opinion on a new diagnosis or course of treatmentRemote physiotherapy sessionsRemote mental health support25% off health MOTsLiverpool Victoria will also advance up to £10,000 of your benefit to a funeral director to cover funeral costs if the payout is tied up in probate.
👍
Good range of free additional benefits via LV= Doctors Services
🏆
5-star Defaqto rating
❌
While Liverpool Victoria has an online trust builder, the end result still requires a wet signature.
Maximum Benefit
Unlimited for level / decreasing cover£5 million for increasing cover
Type of Cover
Level / Decreasing / Increasing / Family Income Benefit
Terminal Illness Cover?
✅
Joint Cover?
✅Either traditional joint cover, covering two people under one policy, or dual cover, covering two people under two separate policies
Online Trusts?
✅
Claims Paid
94.3% in 2019, totalling £109.4 million
Royal London's main additional benefits offering is Helping Hand. This includes:Access to a dedicated nurse via a telephone helpline for help with bereavementAccess to complementary therapies to manage symptoms / help with recovery after an illnessIndependent careers, legal and medical helplines for support when you need a professional opinion or adviceRoyal London will advance up to £10,000 of your benefit to a funeral director to cover funeral costs if your benefit is tied up in probate.
👍
The option to choose dual life cover for couples, so each partner gets their own life cover. Surviving partners therefore retain their life cover if their partner dies.
🏆
Winner: Best Protection Provider of the Year, 2020 Money Marketing Awards5-star Defaqto rating
❌
Successful claims paid in 2019 are a little on the low side
Maximum Benefit
£25 million for level / decreasing cover£15 million for increasing cover; total cover after all increases cannot exceed £30 million
Type of Cover
Level / decreasing / increasing / Family Income Benefit
Terminal Illness Cover?
✅
Joint Cover?
✅
Online Trusts?
❌
Claims Paid
99.4% in 2019, totalling £128.1 million (plus £13.4 million in terminal illness claims)
Scottish Widows Care is Scottish Widows' main additional benefits offering. It centres around a team of dedicated nurses available on a telephone helpline, offering support with:Long-term physical or mental health conditions / disabilityBereavementTraumaDischarge from hospitalGetting a face-to-face second medical opinion from UK-based specialistsScottish Widows will advance up to £10,00 of your benefit to a funeral director to cover funeral costs if your payout is tied up in probate
👍
Free replacement cover for joint policies as standard. Surviving partners can take out a new single policy within 3 months of receiving a payout for their partner's death without new medical underwriting.
🏆
5-star Defaqto rating
❌
No online trusts service
Maximum Benefit
£18 million
Type of Cover
Level / decreasing / increasing / Family Income Benefit
Terminal Illness Cover?
✅
Joint Cover?
✅Joint life first death only
Online Trusts?
❌
Claims Paid
99.5% in 2019
Vitality's additional benefits centre around the Vitality Programme Select. It offers discounts on certain fitness tracking devices, plus access to certain reward partners.It lets you cut premiums by staying active and collecting Vitality points. If you earn a certain number of points through activity, you reach bronze, silver, gold or platinum status.
👍
Vitality had one of the highest percentage of successful Life Insurance claims paid in 2019
🏆
Winner: Best Individual Protection Provider, 2020 Health Insurance & Protection Awards5-star Defaqto rating
❌
While Vitality offers various rewards and discounts via the Vitality Programme, other than this its additional benefits options are limited
❌
No online trusts
Maximum Benefit
Unlimited
Type of Cover
Level / decreasing / increasing
Terminal Illness Cover?
✅
Joint Cover?
✅Joint life first death only
Online Trusts?
❌
Claims Paid
99% in 2019, totalling £203.9 million
Included free as standard, Zurich's main additional benefits offering is Zurich Support Services. This offers:Support with finding care for children and elderly relativesCareer coachingDebt and money managementLegal informationMulti Fracture Cover 💷An optional add-on for an extra premium, this pays £2,000, £4,000 or £6,000 depending on your injury if you suffer certain fractures / dislocations, rupture an achilles tendon or tear a cruciate ligament.
👍
While it comes at additional cost, Zurich lets you add fracture cover to your policy. This is fairly unusual among Life Insurance providers.
🏆
5-star Defaqto rated
❌
No online trusts